If you haven't already, you'll want to read
Part One
and
Part Two
of the Decor Makeover. I started with a refrigerator top that was a hot mess and really annoyed me. I ended up with a beautifully decorated space that I love.
After looking over the two options Ashley came up with, I loved pieces from each.
From Option One, I loved the crate (especially with the chicken stencil), the idea of a cute basket for the batteries, and the clock. From Option Two, I loved the aloe plant in the chicken, the tall pitcher for the flashlight, and the apothecary jar with lemons. So, I decided to mix and match the two options!
To simplify things, I wanted to make one trip to Target and try to get everything. For items that were from another retailer, I planned to find something similar at Target. That way, I could see everything together as I was buying it, wasn't ordering from several different places and didn't have to pay any shipping costs.
Lesson one: Don't try to buy new home décor at Target in November. Lesson Two: Don't try to buy home décor with a one year old in tow. Lesson three: If it is pouring rain, just stay home altogether.
Besides two Christmases ago when our debit card was in the big Target scam, this was the first time I had ever been really mad at the store. At first, the frustration was my own–trying to take on this task with a toddler boy in the cart. I was just mad at myself for attempting that. But, as we circled and circled and circled the store, continuously coming up empty-handed, I became mad at Target.
The
only
item I ended up finding was the tall white pitcher, but when I measured it, it wasn't tall enough to cover the flashlight, so I nixed it from my list. I found some clocks, but none that were freestanding. They didn't even have the wooden crate! Basically, I thought I was going to end up with a fridge top covered in Christmas trees, red bows, and jingle bells. Target had cleared out all of its home section for holiday decorations. By some god of home decorating miracle, the babe finally fell asleep. I circled and circled and circled the store again, and ended up finding a few things to take home and try out.
Finding storage that was big enough for all of my serving trays was tough. I ended up with this
large white woven basket by Room Essentials
for $16.99:
I still like the wooden crate with the chicken stencil better, so I may change that up eventually. I thought about stenciling on this basket, but wasn't sure how it would turn out on the weave.
For the batteries, I found this
gray CD/DVD basket
(the inside of mine isn't ombre) by Room Essentials for $5.99:
The bonus was that the flashlight fit inside this storage box so I killed two birds with one stone.
And a box of
green moss balls vase filler
by Threshold for $9.99: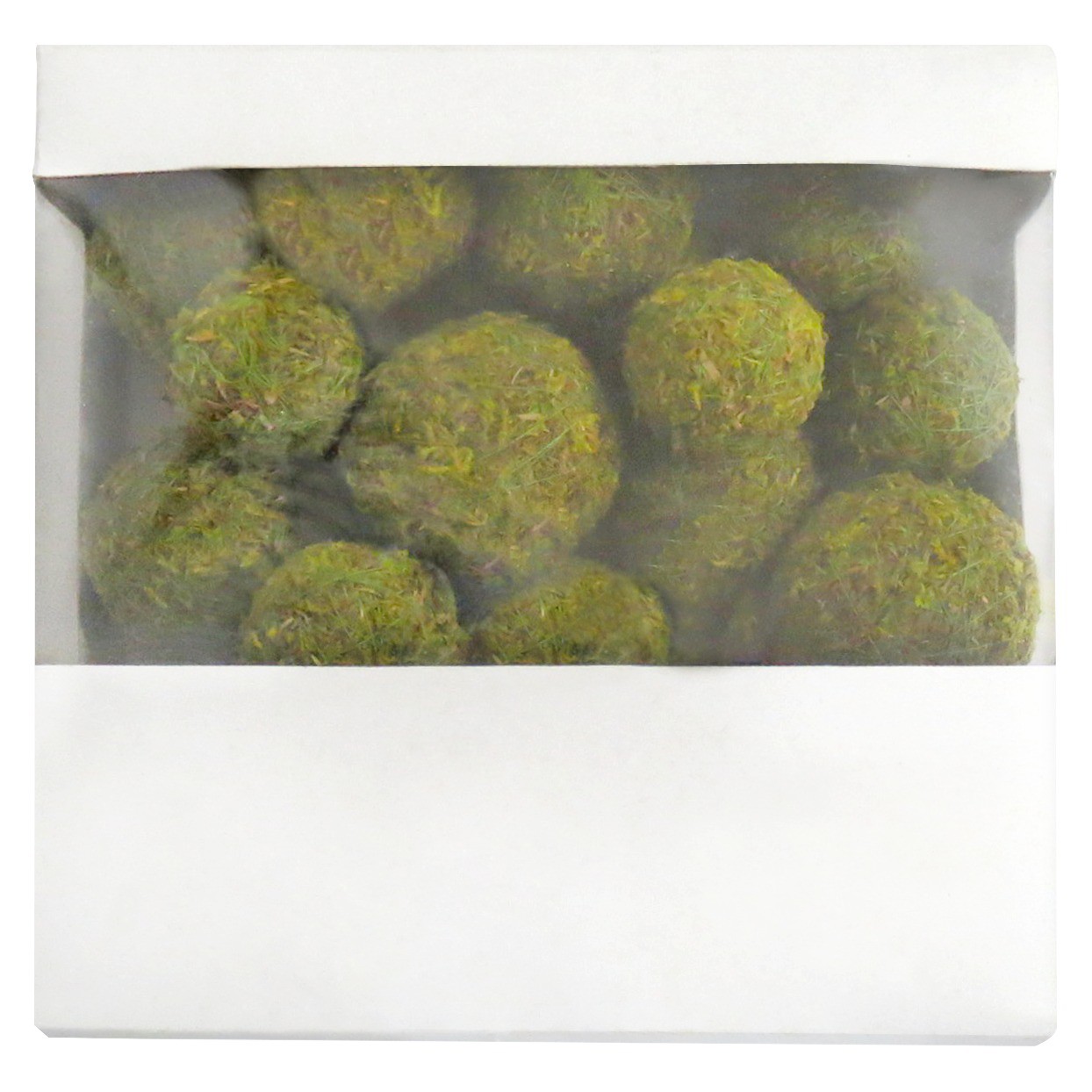 (I don't know what's up with that disgusting picture and fake box, but I swear it's from the Target website.)
I could NOT find an aloe plant, so I guess I'll have to wait until the Farmer's Market this summer.
I got home and still needed something for the change. I liked the Mason jar idea on Option Two, but didn't know how it would look sitting on the fridge and I didn't want to attach it to the wall. So, I decided to run to Wal-Mart and buy this
large two gallon/eight quart glass jar
by Anchor Storage Ware:
The website says it's $29.39, but I swear it was only like $13 in the store. I dumped the four quarts of change into it and have tons of room to "spare."
After I got it all on top of the refrigerator, I could NOT get it arranged in a way that I liked. I ended up moving the antique chicken and old cake/pie carrier into the decorations above the cabinets. Then I moved the antique porcelain pitcher from the living room and added it because it seemed too bare with just the two jars and two baskets. The pitcher was a wedding gift from one of my dearest friends and old college roommate, Danielle. After a FaceTime session with Ashley, she suggested some fake poppies for the pitcher, but I came across the burlap flower stems at Hobby Lobby (which I can't find online now) and thought they would go perfectly. I think they were about $6.99 each, but remember you can use a 40% off coupon!
I ended up spending about $75.00, which was comparable to each of Ashley's options. And just to clarify, I didn't stray from Ashley's options because I didn't like them! I strayed because I live in the boonies and had few options if I didn't want to order online or wait until after the holidays. Every item I purchased was inspired by her Option sheets one hundred percent.
I am thrilled with how it all turned out. It doesn't bother me now, but instead makes me smile.
Just to remind you of what it looked like before:
I KNOW! So much better! So, follow–follow–follow @ashvclark on Instagram and see her great ideas. You can comment on her diy projects there and she'll be glad to help you!
Now, what to put her to work on next…
(PS: I was not paid by Target, or Wal-Mart, or Hobby Lobby, or LG to do this blog. My friend Danielle did pay me, however.)